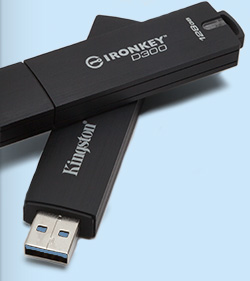 Kingston IronKey D300 wins two "Govies" awards in 2018
The IronKey D300 has won several awards in 2018:
Platinum Winner for Encryption
Gold Winner for Cyber Defense Solutions
Awards from 'Security Today' and 'GovSec' Publications Recognize Outstanding Government Security Products
The Kingston IronKey has won two 2018 "Govies" Government Security awards for:
Platinum award for Encryption
And Gold award for Cyber Defence Solutions
The D300 is known for it's high standard of security, speed and performance. It utilises FIPS 140-2 Level 3 and 256-bit AES hardware-based encryption in XTS mode.
It is also immune to BadUSB because it uses digitally signed firmware.
In addition to this, it also makes sure that only strong passwords can be used in order to prevent unauthorised access.
The Kingston IronKey D300 also uses 100% self-contained encryption and decryption – meaning there's no trace left on the host system.
It even reformats after 10 invalid password attempts to protect against brute force password guesses.
The IronKey D300 was also recognised and won the Platinum "ASTORS" Award for Best Data Storage Security Solution in 2017.